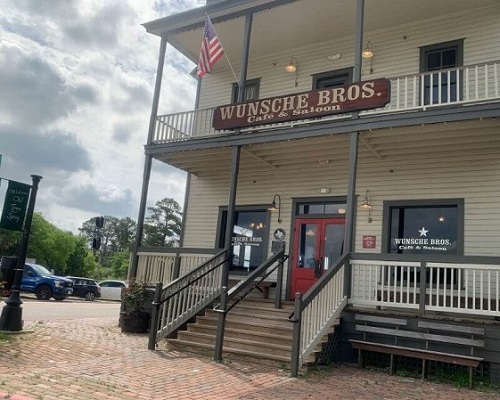 Texas legend Wunsche Bros. Café & Saloon in Old Town Spring celebrates 120-year anniversary this year.
With the summer right around the corner, it's the perfect time to spend quality times with friends and family. Luckily, you don't have to go far to have a good time. Spring, Texas is home to many top-notch entertainment and dining spots in the Houston area. From beautiful scenery to exquisite eatery, here are a few of the top things to do in Spring, TX this summer.

Spring Creek Greenway, Spring, Texas
Spring Creek Greenway is a 40-mile multi-use trail along 7,000 acres of green, lust forest. Located in Harris County, the area offers many activities such as hiking, cycling, kayaking, or wildlife viewing. This is home to an eco-system with thousands of species and a diverse set of landscapes including sand beaches, rivers, and grasslands.
Go on a relaxing bike ride along the paved trail or embark on a wildlife viewing tour with your family. If you're feeling more adventurous, there is also horseback riding and archery events waiting to be experienced nearby. No matter what you like, Spring Creek Greenway has something for everyone.
You can visit Spring Creek Greenway in Spring, TX 77373.

Wild Stallion Vineyards
The Wild Stallion Vineyards is a must-go if you're a wine person. Made from Blanc du Bois, the wines offer a unique flavor profile that will satisfy even the most demanding wine enthusiasts. You can also visit the award-winning vineyards, and join many exciting events hosted on-site such as concerts, private parties, or music nights.
With harvest season approaching, Wild Stallion Vineyards is an ideal place to enjoy good food, beautiful scenery, and making unforgettable memories with your loved one.
Visit the Wild Stallion Vineyards at 5969 W Rayford Rd, Spring, TX 77389.

Old Town Spring
Old Town Spring, a must-visit destination, is the historical, 19th century settlement where the Spring community first began. Today, it is a charming village that can make you feel like you're transported back in time as you stroll through streets lined with historical Victorian-style farmhouses serving as quaint local shops, galleries, bars, and eateries. It's the perfect place to find one-of-a-kind gifts, handmade items, antiques, art and more. You could spend days browsing through the diverse offerings at Old Town Spring.

In the evening, relax with a drink at one of the pubs. If you feel adventurous, you might also consider taking the Old Town Spring Ghost Walk to learn about the town's historic haunted locations. You can learn more about that by watching a video clip here.
Puffabelly's Old Depot Restaurant
One of Old Town Spring's quintessential eateries, Puffabelly's Old Depot Restaurant is a casual American diner which serves staples such as burgers, chicken fried steaks, and fried catfish. Opened in 1995, Puffabellys took inspiration from the original railroad depot location that caught on fire. Now, Puffabellys is known for the hand-pattied burger and great music and atmosphere.
Stop by this month to experience the Melodrama and Murder Mystery Dinner Shows, which features high quality local actors from the Houston area. The restaurant is located in Old Town Spring at 100 Main St, Spring, TX 77373.
Wunsche Bros. Cafe & Saloon
Another eatery you don't want to miss is Wunsche Bros. Café & Saloon, and this summer is a great time to visit. The Texas Historical Landmark celebrates its 120 year-anniversary in 2022 as Old Town Spring's oldest establishment in its original location.
Brothers Charlie and Dell Wunsche of one of Spring's earliest families opened Wunsche Bros as a hotel, saloon, and brothel in 1902 for the area's railroad workers and travelers. The two-story building with rich Texas history sits next to the railroad tracks at 103 Midway St. You can read more about Wunsche Bros' history here.
Today, Wunsche Bros offers a variety of American foods and signature Campfire Fares, including smoked chicken and pork cooked in the kitchen smoker. The dessert menu includes Wunsche Bros' legendary Chocolate Whiskey Cake, first offered the day Prohibition began.
Wunsche Bros Café & Saloon also offers a full bar and has for years featured live music with local performers, including well-known artists such as Clint Black and Lyle Lovett.

Cool Off This Summer at Hurricane Harbor Splashtown
Located about a mile from Old Town Spring and three miles from The Mark apartments, Six Flags' Hurricane Harbor Splashtown is a great place to bring the kids for a day of fun during Houston area's sweltering summer months. You'll find thrilling, wet rides for both kids and adults in addition to a Texas-sized pool and lazy river.

If you do plan to visit, be aware the park is only open on weekends until the end of May. Hours, which can be subject to change, are posted on the website. Also, the park only accepts credit cards and mobile payments, including for parking. Cash to card devices are located onsite. The water park is located at 21300 I-45, Spring, TX 77373.

Living at The Mark Apartments In Spring, TX
Looking for a new place to live in Spring? Consider The Mark.
Living at The Mark apartments in Spring, you'll be within walking distance to the main plaza at City Place, which hosts more than 300 community events each year and is home to major employers, retail stores, restaurants, and more. The Mark's modern apartment community features a resort-style pool with professional-grade outdoor kitchen areas and a spa/relaxation center with private treatment rooms.
Plus, you don't have to go far to find entertainment as the apartment includes a multipurpose room with a theater and a social lounge with billiards, televisions, and a coffee bar. Offering some of the best in apartment and community amenities, The Mark is a place where you will love to live.

To learn about current lease specials and schedule a tour, contact us now!