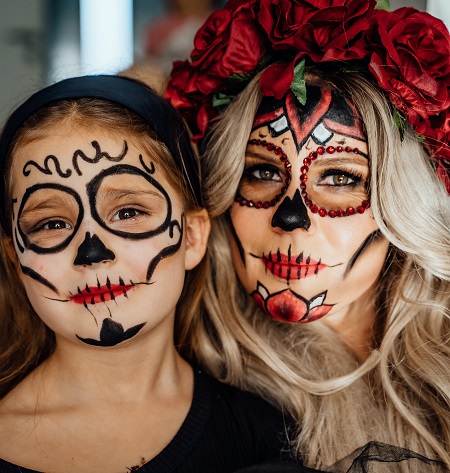 Experience the beauty of the Mexican culture and celebrate Dia de los Muertos (Day of the Dead) October 28-31, 2021, at City Place Plaza in Spring TX. Most of the fun, festive events are free to attend, although some offer tickets for VIP access loaded with extras.
The four-day celebration begins Thursday, October 28th, with a Black Dinner on the waterfront for 50 guests with tickets. The special event featuring a four-course dinner with wine pairings, Catrina face painting, flower crowns and unveiling of a traditional altar to honor passed loved ones is from 6pm – 10pm. Tickets cost $150 per person.
The Dia de los Muertos festivities continue Friday evening with Calacas & Cocktails from 5pm – 9pm. Sip margaritas, available from the cash bar, while enjoying live music at the party on The Plaza. The event is free to attend; however, $35 VIP access tickets are also available.
On Saturday, The Plaza transforms into the Mercado, a festive market where you can shop from a variety of Mexican folk-art vendors and artisans while enjoying traditional music and DJs throughout the day. Face painting and activities for kids will also be available. The Mercado is free to attend, but, like Friday's party on The Plaza, $35 VIP access tickets are available.
A free Family Movie Night with face painting and kids' activities on Sunday wraps up the Dia de los Muertos at City Place Plaza. Screening of the Pixar classic, "CoCo" begins at 6pm.
You can learn more about the upcoming Dia de los Muertos events and purchase tickets at City Place.
Living at The Mark Apartments in City Place
When you live at The Mark apartments in Spring, TX, you can always find something fun to do right outside your door. With our exceptional amenities and monthly fun activities and events for residents plus the many scheduled events at City Place only steps from home, filling your free time is easy.
If you're not a resident yet, what are you waiting for? Explore our floorplans and come take a tour. You will love living here!