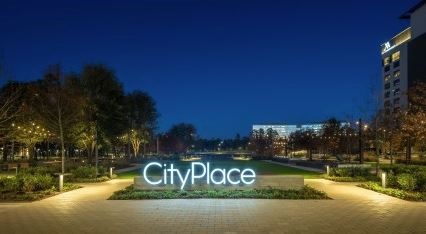 If you're planning to relocate to Springwoods Village, home to The Mark at CityPlace apartments and many of the Houston area's major employers, you may be confused if you see signage with its new name. The master-planned community in Spring, Texas recently rebranded. Inspired by CityPlace, the popular mixed-use development at the heart of the community, Springwoods Village is now officially known as "City Place."

The new name does fit the area well. According to CDC Houston officials announcing the rebrand, City Place is becoming a city where thousands of people live, work, shop, dine and play. And as this pedestrian-friendly, connected community grows, they can do much of it on foot, bike, or scooter.
Plans for a significant expansion of the development were also announced. To accommodate future growth and make the community more accessible, major extensions of roads connecting City Place to the Grand Parkway and I-45 are underway. With these new roads, residents will enjoy the convenience of more access points to North Houston, The Woodlands and beyond.
Relocating to City Place in Spring TX? Find an Apartment at The Mark
City Place is already home to major employers such as the ExxonMobil Corporate Campus, Hewlett Packard Inc., American Bureau of Shipping (ABS), Chi St. Luke's Health Hospital, and Southwestern Energy. With the upcoming relocation of HPE's global headquarters to a new campus in City Place and offices opening at 10000 Energy Drive, many people employed by these and other companies within the community are searching to find a place to live nearby. If you plan to relocate to City Place, The Mark at CityPlace apartments provide the perfect home.
Situated just off The Plaza in City Place, The Mark is only steps from many of those employers, including the new HPE headquarters. As a resident, you can walk or bike to and from work, and dining and entertainment options are also just outside your door. See a map of what's near The Mark at CityPlace apartments.
The Mark features studio, 1, 2 and 3 bedroom apartments for rent, each with luxury finishes and resort-caliber amenities. Browse through the floorplans, view apartment availability, and find your new home at The Mark. For additional information or to schedule a tour, contact us now.